A recent testimony reminded me of the importance of the hoodies and merch we make available here at Calvary. Not everyone sees their importance though but maybe after they read this and the testimony below they'll change their mind.
From time to time I'm asked why we place such a strong emphasis on creating hoodies, T-Shirts, hats, windbreakers and all sorts of "Calvary" merch on calvaryco.store. We also provide free pens, license plate covers, and window decals letting people know about our church and radio stations.
Well, let's be a little clearer here, the approach to this subject is not always kind and not always with a nice question. Many times it comes in the form of an accusation. In the 22 years of ministry here I've been accused in person, by email, and especially on social media of watering down the gospel, being new age, making a name for myself, promoting the church and not Jesus, and on the list goes. Why? Because we sell hoodies and all types of Calvary clothing in our bookstore. Oh and some have been upset we have a bookstore and coffeehouse in our church too but that's for another time.
However, in the agape love of Jesus, the question is a good one. Why sell hoodies and hats?
We're committed here at Calvary to do anything short of sin to reach the lost. It's not a slogan it's a commitment!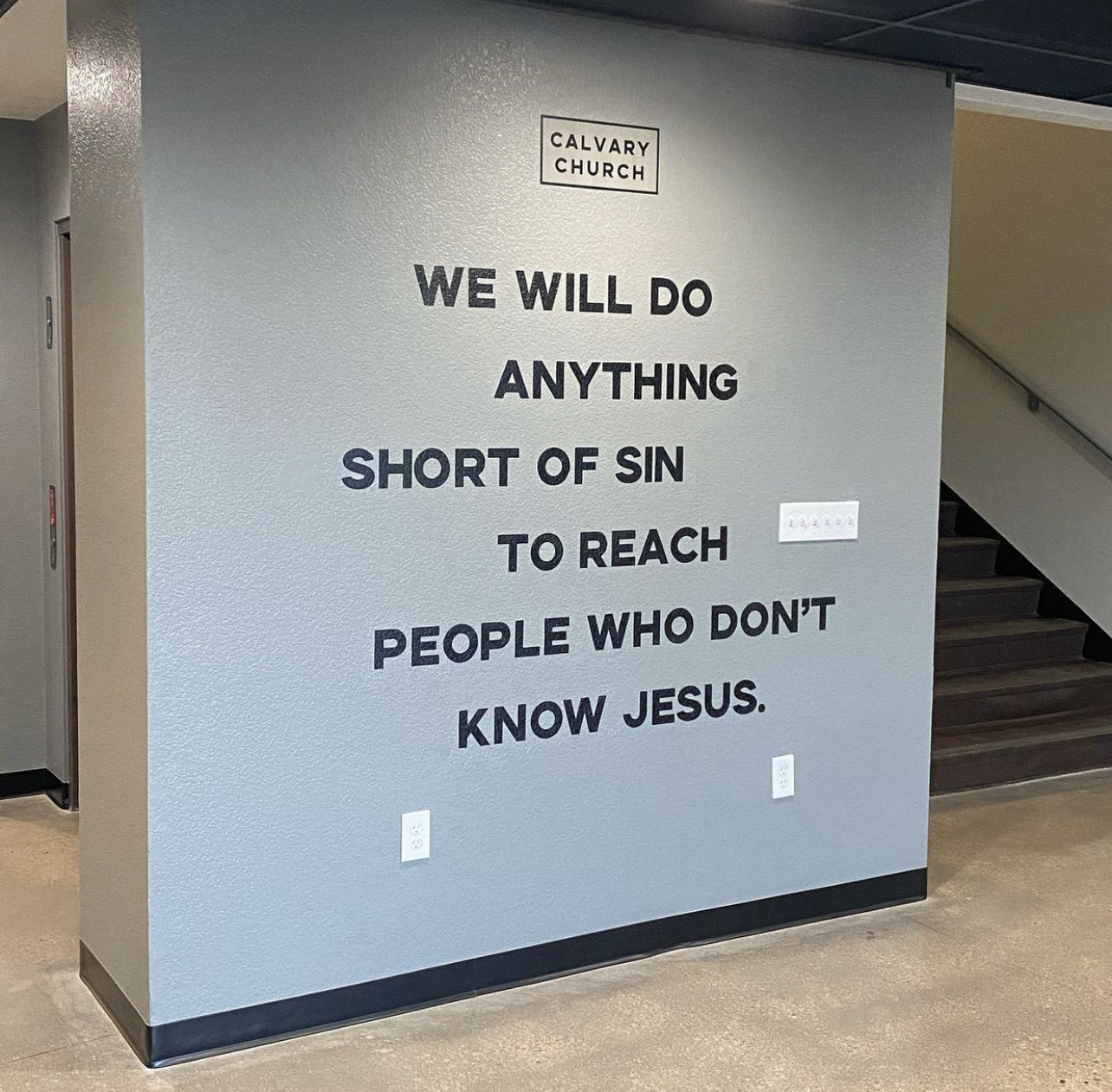 God spreads the gospel by connecting people with people. It's been His method of outreach since the beginning of time.
But you know as well as I do, not everyone is as outgoing as the extrovert crowd. Some, perhaps even you, are shy, timid, and even afraid to talk about Jesus in the open square. That's normal. It's not a bad thing that God has made you a little more introverted than others.
Enter the 'gear'. Decals, pens, t-shirts, hoodies, and the like are discussion starters. They are a very passive non threatening way to communicate that you are follower of Jesus and you attend a particular church. As you wear the clothing, or drive with the stickers, or give out that free pen, you are speaking loudly of your faith without ever opening your mouth, until… the discussion starts. Someone sees. Someone asks. Discussion! Prayer! Invite!
We've also made a commitment here at Calvary to give all of our net proceeds from the bookstore, coffeehouse, and my personally authored books to our missionaries at the end of the year. You pay for the garment or the drink or the book, and the net proceeds directly support the gospel around the world. It's a win, win, win, and perhaps even a grand salvation win for the Lord.
I'm sure there are those who are still skeptical of our approach in this area and don't believe it's a valid avenue for evangelistic ministry. If that's you, consider this testimony I received from Jim, an Abounding Grace Radio listener in Southern California. He sent it to me on April 2, 2022:
Hey Pastor,
Hope this finds you blessed and well. I wanted to share a Praise report with you. A couple of months ago I was at the studio prepping for a new Netflix series and I was wearing a Calvary Church black hoodie that I bought from your store online. A young crew member came to me and introduced himself. He commented that he liked my sweatshirt. I explained to him that it was from a Church in Colorado that I listen to online. He tells me he's from Colorado and just moved to Los Angeles to work in the Industry. He then asked me where the Calvary Church is located, and I told him Aurora and he told me he's from Aurora!!!!! Small world! A few days later he pulled me aside and asked where I go to church and could he join me? I of course said yes and he has been going ever since. But the most amazing news is that he just invited Jesus into his heart! He is also going to be baptized on Easter Sunday!!!!! Praise the Lord! I just thought you would enjoy hearing this. God Bless you!

You can't make this up. It's amazing. Hoodies leading to salvation. Glorious!
So get some merch and start talking about Jesus more! Visit calvaryco.store